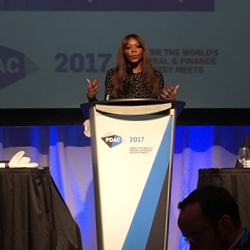 Introduction Capital attended the PDAC 2017 Mineral Outlook Luncheon on March 6, 2017.
The guest speaker was the formidable Dr. Dambia Moyo, global economist and author from NYC. Dr. Moyo delved deep into current issues of macroeconomics, geopolitics and globalization to examine what is required for future economic, political and social success.
Dr. Moyo's bearish outlook on the world economy, deglobalization efforts and class division highlighted some very concerning aspects of the current period of 'slow growth'. She referenced important global reports including those reporting lagging population growth worldwide and the deteriorating education levels in developing countries. Dr. Moyo emphasized that these are times like no other because of technology, demographics, income inequality, natural resource scarcity, debt levels and productivity indicators.
A notable and alarming fact she shared is that the three largest global employers are currently the US Military, Chinese Military and Walmart. On a high note, Dr. Moyo did applaud Canada for our advanced and sophisticated stance on immigration in light of the current global refugee crisis. You can hear Dr. Moyo speak at dambisamoyo.com.