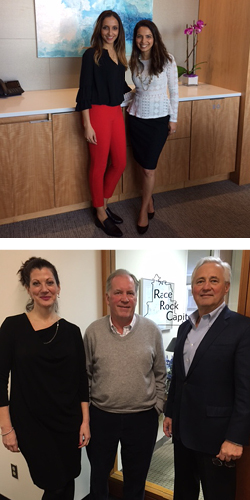 It has been a busy start to 2017 with IC in San Francisco at the Northstreet Global's Cap Intro West Conference and more recently, IC in Boston.
In Boston, IC caught up with an old friend of the firm, Frank Casey, previously of Foxhounds who discovered Bernard Madoff's Ponzi Scheme fraud in early 1999. We were delighted to learn that Frank has joined Richard Bartels and the team of Race Rock Capital – one of IC's global alliance partners. Race Rock shares IC's investment philosophy that servicing investor needs is paramount in relationship brokering, as the well established firm provides introductions for emerging and established institutional money managers who have a "carefully articulated and demonstrable edge".
During this visit to Boston, IC also connected with Azra Kanji, member of Abry Partner's Senior Investment Team. Since inception in the late-1980s, Abry is one of the most experienced and successful private equity investment firms in North America with the execution of +US$62 billion of leveraged transactions and other private equity placements. Abry's investment to build stronger companies is synergistic with IC's focus on introduction of growth capital.